MA'O Blog
The average work day of our MA'O farmers can run anywhere from 5-10 hours varying on the responsibilities that are to be upheld by each cohort or individual. For the Step Up Interns (SUI) that means getting to the farm by 5AM to begin working; at this time the SUI begin harvesting salads for the next wave of YLT interns who start at 6AM. Our final crew comes in at 7AM and works through until 12PM when all of our orders are washed, packed and ready to be shipped out on delivery. The perks of starting at the crack of dawn means working and being able to enjoy the phenomenal scenery and unforgettable sunrises that greets each farmer. Photos do not do justice to the beauty up at the farm!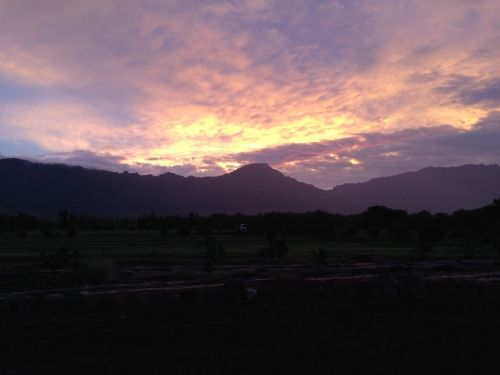 Posted on Mar 05, 2014 - 10:25 AM
By: Kelsey Brantley - Cohort 6
Do you recognize these young, fresh, farming faces? Well these cheery, youthful and feisty individuals are going strong this academic school year. It's hard to believe how fast this semester has flown by since our students are now being greeted by midterms! Our YLT interns are still hard at work on the farm; planting, harvesting, washing and packing up all that veggie goodness. You can barely tell that they're carrying a load as full time students because they do it so well. These cool cucumbers have endured all the ups and downs that college has to offer and they know that they've got the support of MA'O and they're fellow peers to help them get through school. So let's give a round of applause to our student youth farmers for all their hard work and dedication.
Posted on Feb 28, 2014 - 09:01 AM
By: Kelsey Brantley - Cohort 6
Do you know what March is? It's National Nutrition Month (NNM) and it's right around the corner! "National Nutrition Month is a nutrition education and information campaign created annually in March by the Academy of Nutrition and Dietetics. The campaign focuses attention on the importance of making informed food choices and developing sound eating and physical activity habits." This year's theme for NNM is "Enjoy the Taste of Eating Right" so you know what that means, cooking healthier meals without compromising on flavor! We'd like to know how you plan on honoring NNM for March, it's just a few weeks away so get your aprons on or maybe even dust off those running shoes to make a little change in your everyday lives. Feel free to share any healthy recipes you come across or let us know how you plan on incorporating MA'O veggies into your tasty meals!

Also, Check Out these Helpful Tips:
http://www.eatright.org/nutritiontipsheets/
Sources: http://www.eatright.org/NNM/#.UwUFb_YWVlo
Posted on Feb 19, 2014 - 09:44 AM
By: Kelsey Brantley - Cohort 6

Beets come in an assortment of colors, generally supermarkets carry red beets but here at MAʻO we grow four main varieties which include Bull's Blood, Chioggia, Early Wonder and Golden beets. You may be familiar with beets as they tend to be one of the items included in our weekly CSA's. Their nutritional values are phenomenal as you can find "potassium, magnesium, fiber, phosphorus, iron; vitamins A, B & C; beta-carotene, beta-cyanine; folic acid"* in these hearty roots, but the awesomeness continues! Studies have shown that beets can be used as a stomach acid tester. It's quite simple, after consuming a lot of beets or beet juice you may notice that your urine is pink which indicates low stomach acid. Many of us choose to roast our roots or juice them but you can also try this recipe:
Beets With Sour Cream Recipe
Makes 4 servings
Prep Time: 5 minutes
Cook Time: 10 minutes
Total Time: 15 minutes
Ingredients:
4 cooked beets or 2 cups canned or jarred beets, drained
1 teaspoon sugar
1 cup sour cream
Salt and black pepper
Chopped dill for garnish
Preparation:
Cut beets into strips or julienne. In a medium bowl, combine all ingredients except for dill. Heat just to the boiling for hot vegetable, or refrigerate if serving cold.
Garnish with chopped dill.

If you have any beet recipes you'd like to share, feel free to leave a comment below and tell us how you use your beets!
Sources: http://www.fullcircle.com/goodfoodlife/2012/05/10/6-health-benefits-of-eating-beets/*
http://easteuropeanfood.about.com/od/vegetables/r/creamedbeets.htm
Posted on Feb 12, 2014 - 09:54 AM
Two really excellent classes will be offered at the University of Hawaii West Oahu next semester, they are:
68393 SSCI 496B Ecology of Agricultural Systems (Pre: BIOL 101 and BIOL 101L)
The course explores farming systems from an ecological perspective. Topics include: ecological and social impacts of agriculture; the agroecosystem concept; ecological processes in agriculture; principles and practices of ecologically based soil fertility and pest management; biodiversity and ecosystem services in agriculture; ecological social indicators of agricultural sustainability; comparative analyses of agroecosystems; and socio-economic interactions with biophysical factors.
68394 SSCI 496F Survey of Sustainable Community Food Systems (SCFS) in Hawaii (Pre: Junior standing)
Drawing extensively from the experiences of farmers and food systems professionals, the course provides a social and ecological analysis of the existing food and farming systems of Hawaii. Discussion of the key social, economic and political obstacles to greater sustainability in the Hawaii food system will be emphasized.
Posted on May 22, 2013 - 08:37 AM
Next Page