MA'O Blog
Two really excellent classes will be offered at the University of Hawaii West Oahu next semester, they are:
68393 SSCI 496B Ecology of Agricultural Systems (Pre: BIOL 101 and BIOL 101L)
The course explores farming systems from an ecological perspective. Topics include: ecological and social impacts of agriculture; the agroecosystem concept; ecological processes in agriculture; principles and practices of ecologically based soil fertility and pest management; biodiversity and ecosystem services in agriculture; ecological social indicators of agricultural sustainability; comparative analyses of agroecosystems; and socio-economic interactions with biophysical factors.
68394 SSCI 496F Survey of Sustainable Community Food Systems (SCFS) in Hawaii (Pre: Junior standing)
Drawing extensively from the experiences of farmers and food systems professionals, the course provides a social and ecological analysis of the existing food and farming systems of Hawaii. Discussion of the key social, economic and political obstacles to greater sustainability in the Hawaii food system will be emphasized.
Posted on May 22, 2013 - 08:37 AM
Posted on Apr 15, 2013 - 04:02 PM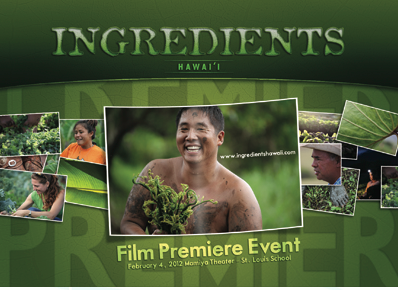 Grab this rare opportunity to meet people instrumental in creating Oahu's new local food community, and see the world premiere of the highly anticipated follow up to the acclaimed documentary, Ingredients.
Ingredients Hawaii Part One illustrates Oahu's emerging local food community as an alternative to imported and processed foods. The film illustrates the ways we are reclaiming our agriculture and local food traditions in light of uncertain food future. Starring: Ed Kenney, the interns of Ma'o Farms, Mark Noguchi, Jay Maddock. Featuring: the Ahupua'a of Ko'olaupoko, Sweet Home Waimanalo & Farm Roof, Waikiki School, Aloha Harvest & Foodscapes.
Sponsored by: Whole Foods, The Hawaii State Department of Agriculture, Kamehameha Schools, and the Hawaii Council for the Humanities.
See the SOURCE WEBSITE to buy tickets…
http://www.ingredientshawaii.com/watch-the-film
Parking is free and will be marked by signs. Please view a map of the Mamiya Theatre on the St. Louis/Chaminade campus

Today in CSA…
SALADS…bag of SASSY, bag of TATSOI, bag of MIZUNA
ROOTS…bunch of BEETS, bunch of CARROTS,
GREENS…bunch of CHARD, bunch of LACINATO KALE,
FRUITS…EGGPLANTS, CITRUS MIX(limes and grapefruit), GREEN PAPAYA,
HERBS…bunch of GREEN ONION, bunch of CILANTRO,

ENJOY:)
Posted on Jan 30, 2012 - 12:40 PM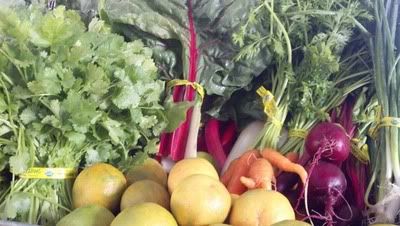 These few week we all have seen some chard in our CSA boxes, this past week at the Farmers market a CSA customer of ours shared this information with me, he said it was a quick and fun way to get educated, especially about veggies that he receives often.
"Although chard has not been studied as extensively as other chenopod vegetables (like beets and spinach), there's no question about the valuable role that chard can play in support of our health, or about its routine inclusion in healthy diets worldwide. The amazing variety of phytonutrients in chard is quickly recognizable in its vibrant colors, including the rich, dark greens in its leaves and the rainbow of reds, purples, and yellows in its stalks and veins. Virtually all of these phytonutrients provide antioxidant benefits, anti-inflammatory benefits, or both. In addition, many provide health benefits that are more specific and of special important to particular body systems. Best researched in this area are phytonutrient benefits provided by chard for our body's blood sugar-regulating system."

The Source=http://whfoods.org/genpage.php?tname=foodspice&dbid=16
Today in CSA…
SALADS…Sassy Salad, Powerhouse
ROOTS…Carrots, Hakurei, Roastin Root Bag,
HERBS…Basil, Cilantro, Green Onion
FRUITS…Tangerine, Grapefruit
GREENS…Chard, Lacinato Kale
Posted on Jan 17, 2012 - 01:58 PM
How often are we actually able to get locally-grown organic cauliflower? Well, this week, it's available exclusively in MA'O's CSA box. Cauliflower is a rarer luxury that MA'O usually only offers twice a year as it requires colder weather to grow well. With our especially chilly winter, the cauliflower looks very nice and is available in our CSA box in one of the following colors…the commonly seen white or yellow…or a specially lovely orange or purple.
A note about purple cauliflower…though it resembles cauliflower in overall appearance, it's actually a type of purple broccoli!
Also among the goodies in this week's CSA box, are limes, and 10 to be exact. But why exactly 10 limes? Well, it's because we wanted to share a very special recipe with you all for key lime cheesecake! This recipe comes to us via Epicurious.com and yes, you guessed it, the recipe calls for 6 tablespoons of fresh lime juice, which works out to 10 limes. It also calls for a teaspoon a grated lime peel, and since the limes are organic, you won't have to worry about any pesticides making their way into your dessert via the peels.
http://www.epicurious.com/recipes/food/views/Key-Lime-Cheesecake-236210
Our Farm Operations Director, Gary Maunakea-Forth himself, actually made this cheesecake and he recommends it to anyone with any remnant of a taste bud. So there you go!
The organic cauliflower and limes barely even begin to capture all of the 'ono organic goodness in this week's CSA box. As always, have fun with it, be creative and make some great healthy food for yourself, your 'ohana and friends, and let us know how it turns out. We expect a full report, and pictures to boot!
No Panic, GO ORGANIC! Your friends at MA'O

In today's CSA box…
SALAD: 2 bags of SASSY salad mix, bag ARUGULA or LETTUCE HEADS
ROOTS: 2 bunches of CARROTS, bunch RADISHES, bunch HAKUREI TURNIPS
BRASICAS: CAULIFLOWER
HERBS: FENNEL
GREENS: PAK CHOY, bunch TOSCANO KALE
FRUITS: LIMES, TANGERINES/CLEMENTINES
Posted on Jan 10, 2012 - 02:19 PM
Next Page